Preproduction computer-generated image shown throughout. Starting spring 2022.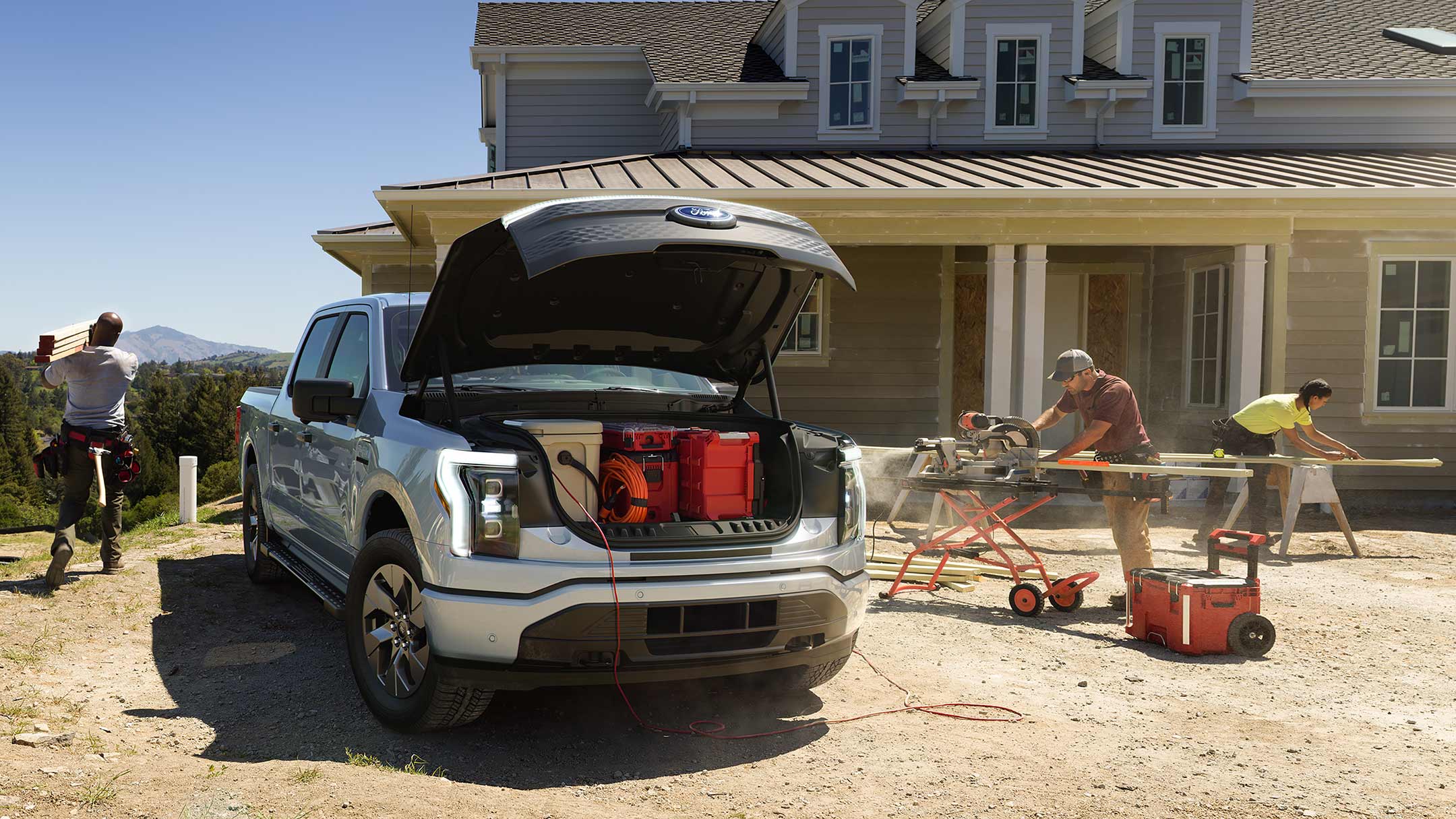 Reserve The 2022 Ford F-150 Lightning
The futuristic 2022 Ford Lightning is the latest evolution in the legendary history of the Ford F-150, and it will redefine your idea of power. Make no mistake about it, this muscle-bound beast has just as much strength as you can expect from any Ford F-150 for sale. This truck, however, is the only one that can act as a generator powerful enough for your whole home.
What We Know About the 2022 Ford Lightning Price
Curious about the 2022 Ford F-150 Lightning price? You're in luck. Our vehicle experts believe that this all-electric standout will begin at a starting price of $39,974 MSRP.1 Sometime in early 2022 you'll be able to reserve the XLT trim as well, which has an estimated starting price of $52,974.1
Ford F-150 lease deals are likely to follow and you can even reserve the 2022 Ford Lightning right now online. If you'd like to know when this truck will be available for the first time in your area, reach out to our Ford dealership.
We'll be able to tell you when the 2022 Ford Lightning is touching down at our location near you. If you'd like to receive mobile or email updates on this zero-emissions truck, we can help you sign up for that, too.
Seamless and Hassle-free
When the time finally comes for this model to take center stage, or if you've decided that you want to reserve the 2022 Ford Maverick instead, you can expect a hassle-free process. Our team will cut out any gray area and only move on to the next step when you're ready to do so.
Experts Are Already Raving About the 2022 Ford Lightning Specs
Concerned that a truck powered solely by electricity can't possibly be as strong as its gas-powered forefathers? Take some deep breaths and take a look at the prodigious Ford Lightning towing capacity. This broad-shouldered beast will bully any terrain you put in front of it and can tow up to 10,000 pounds.2
Compare that to any other Ford F-150 towing capacity, and you'll see that stacks up quite comfortably. Just like any Ford truck, this is a model that welcomes work with a gritty grin.
Need a Truck With Some Acceleration?
With the 2022 Ford Lightning, 0-60 mph is reportedly in the mid-four-second range.3 Why choose between firepower and fuel efficiency when you can have them both with this truck. The 2022 Ford Lightning range extends to an impressive 230 miles4 on a full charge. You can push that farther with the extended-range battery.
Looking for similar high-powered performance that gets the job done with a zero-emissions approach? You can order the Mustang Mach-E and see for yourself how Ford is changing the way some of our most popular models are powered. As a driver, all you have to do is experience the benefits going forward.
2022 Ford F-150 Lightning Electric Truck Features
The star of the show in this modern marvel might be the 2022 Ford Lightning interior. Enjoy remote access to your vehicle, powerful charging solutions, and even use your phone as a key.
It's all possible in the new 2022 Ford Lightning. Visit our dealership in 2022 and you'll see this yet-to-be-released attention-grabber next to our brand new Ford F-350 models.
The 2022 Ford Lightning Is Ahead of Other Truck Competitors
We can't tell who's more excited about the upcoming debut of the 2022 Ford Lightning, Ford truck fans, or environmentally conscious truck-lovers. Our showroom is already answering questions about when this four-wheeled wonder will be available.
If you can't wait for the first appearance of the 2022 Ford F-150 Lightning, check out the numerous trim levels we have for sale right now in our used Ford F-150 section.
Make sure our team has you on our list and you'll be the first to know when the 2022 Ford Lightning release date is officially released. We look forward to reserving one of these amazing truck models for you, and unleashing this electric evolution on the truck game in the coming months.
Online Reservation FAQs
What is a reservation?
A reservation lets you configure and be among the first to order a new all electric F-150 Lightning from Ford with a refundable Reservation Deposit. It is not an actual order and does not guarantee delivery.
What steps are required to complete my reservation?
Go online and select reserve now, create a Ford Account, select your preferred Ford EV Certified dealer and enter your credit/debit card details and address. A confirmation receipt will be sent to the email address you provide. *
What is a Ford Account and why do I need one?
A Ford Account lets you sign in to the Ford website to save and manage your personal and reservation information. You need to create a Ford Account to reserve your all electric F-150 Lightning. Reservations can also be tracked in your Ford Account at owner.ford.com/. *
Can I select any Ford Dealer?
To find the closest Ford EV Certified Dealer, go to the Ford.com and select 'Locate a Dealer'; insert zip code or type in Dealer name; select 'Advance Search'; check EV Certified.This will ensure EV Certified Ford Dealers are presented in your search results.
Can I make changes to my reservation?
Customers may reach out to Ford Customer Support at (800) 334-4375 for assistance in updating their dealer selection. In changing dealers, there will be no impact to a customer's reservation ID, vehicle details, or the associated timestamp.Is the $100 reservation fee refundable?
Yes, reservation fees are refunded with reservation cancellation. Allow seven to 10 business days for the reservation deposit to be credited to your original form of payment.
Will you share my reservation information with my dealer?
Your reservation information will be shared with the dealer you select at the time of reservation. Please see our privacy policy at ford.com/help/privacy for additional information.*
Can I cancel my reservation?
Yes. You can cancel your reservation at any time and receive a full refund.* You can do this in your account at ford.com. If for some reason you can't process the cancellation online, you can contact a Ford Customer Experience Representative at 800-392-3673 (Ford U.S.). After canceling, allow seven to 10 business days for the reservation deposit to be credited to your original form of payment. Once you progress from a reservation to an order with a dealer, however, cancellation requests would be at that dealer's discretion.
When can I order my vehicle?
You will be notified prior to when the  all electric F-150 Lightning ordering windows open to finalize and confirm your selection and agree on pricing with your dealer.
What is an online order?
An order sends your vehicle configuration to your selected Dealer who will then process your order request.By submitting an order and completing the order process, you are not purchasing a vehicle. Ordering does not guarantee you vehicle delivery. Your order does not guarantee a set-price for the vehicle.
Am I ordering this vehicle directly from Ford?
The all electric F-150 Lightning order is being placed on your behalf by your selected Ford EV Certified Dealer.
Can I call or visit my Dealer to place my order?
Yes, your Ford EV Certified Dealer can assist with submitting and processing your all electric F-150 Lightning order.
What happens to the reservation deposit once I order?
See your dealer for details. The reservation deposit should be credited or refunded by your dealer as part of the vehicle purchase process.*
Am I buying this vehicle directly from Ford?
No. The purchase agreement will be between you and the dealer, not you and Ford.
When will I take delivery of my vehicle?
You will be able to order your all-electric F-150 later this year. Production and deliveries will begin Spring 2022. Delivery times may vary based on vehicle model and configuration selected, residency and demand. Once your vehicle is scheduled, you will receive further notification.
How many reservations can I make and can I transfer my reservation?
Up to four reservations per account. Your reservation number is assigned to you and cannot be transferred.*
What price will I pay for my F150 Lightning?
The pricing for your vehicle will be finalized at time of order.  The entry model starts at $39,974 MSRP(commercial-oriented). More-equipped mid-series (XLT) starts at $52,974 MSRP, offering additional comfort and technology. MSRP starting at $39,974 up to around $90,474.1 This reservation does not guarantee you a specific price point.
DISCLAIMER: *By completing the Reservation Process, you are not ordering or purchasing a vehicle. Participation in the Program does not guarantee you vehicle delivery. Your Reservation does not guarantee a set price for the Vehicle.
---
1MSRP for base vehicle. Excludes destination/delivery fee plus government fees and taxes, any finance charges, any dealer processing charge, any electronic filing charge, and any emission testing charge. Optional equipment not included. Starting A, Z and X Plan price is for qualified, eligible customers and excludes document fee, destination/delivery charge, taxes, title and registration. Not all vehicles qualify for A, Z or X Plan. All Mustang Shelby GT350® and Shelby® GT350R prices exclude gas guzzler tax.
2Max towing on Pro, XLT, and LARIAT with available extended-range battery and Max Trailer Tow Pkg. Max towing varies based on cargo, vehicle configuration, accessories and number of passengers.
3Targeted performance reflects current status based on analytical projections consistent with US Automotive publication processes. Final performance times will be available in the 2022 calendar year.
4Based on full charge. USA EPA-targeted range reflecting current status based on analytical projection consistent with US EPA combined drive cycle. Actual range varies with conditions such as external environment, vehicle use, vehicle maintenance, lithium-ion battery age and state of heath. Final EPA-estimated ratings available in 2022 calendar year.