Ford Collision Repair Shop In Arcadia Near Port Charlotte, FL
If you have been involved in an auto accident, contact our auto paint and body shop for Ford collision repair. We specialize in Ford collision repair procedures and have the tools, parts, and equipment needed to bring your vehicle back to pre-accident condition.
Our Ford collision center is here if you need help arranging a tow truck to bring your vehicle to our body shop or rental car during the duration of your collision repair.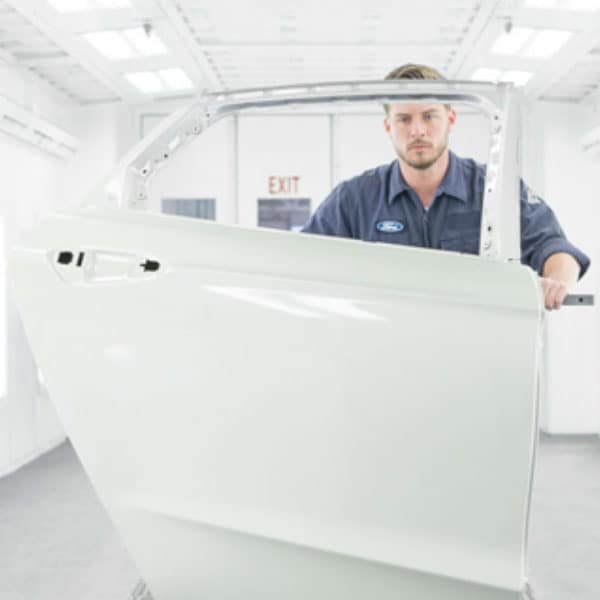 Ford Collision Repair Shop Servicing Fort Myers, FL
Resolving the aftermath of an accident can be a stressful time. Thankfully, you can ease the stress by bringing your vehicle to our Ford service center.
Our team is here to diagnose the damage to your car and ensure that safe repairs can be made. This means we'll only work on your vehicle if we can guarantee the vehicle will be repaired to the factory standard of safety and operating condition. If not, we won't take the job. Your safety is our priority.
To help you save on many of our common auto repairs, we offer Ford service coupons.
The next step is to create a repair estimate and coordinate with your insurance company. During your Ford collision repair, we'll stay in touch with the insurance agent handling your claim to make sure the paperwork is up to date and notify the company if any supplemental repairs/parts are needed.
Genuine OEM Ford Auto Parts
Whether our vehicles have been damaged in an auto accident, damaged in a hail storm, by a falling tree branch, or by a rogue shopping cart in the Walmart parking lot, our instinct is only to assess the exterior damage.
The reality is, bodywork and paint are often easily replaced. It's often the internal components that are most affected in an accident. When we're handling your Ford collision repair, we only use authentic Ford parts from our parts department in Arcadia, FL, to complete the repairs to your new Ford F-150 lease.
The benefit of trusting your Ford collision repair to our Ford body shop is you know your car is receiving professional auto collision repair from experts who are trained and certified to maintain your vehicle.
DESOTO Ford Collision Repair
From major and minor collision repair to paintless dent removal, our Ford collision repair center servicing Port Charlotte, FL, can tackle all of your auto paint and bodywork needs. If you would like cosmetic stone chip removal or have dents in the hood from hail damage, call on our team to assist you.
Contact DESOTO Ford Collision Center
* Indicates a required field